Spring Equinox
Have you sat and listened, really listened recently? Even though the air is still cold, and occasionally snow drifts down, the earth is filled with life and expectation. She is well nigh bursting with the urge to grow and unfurl and flower. She is waiting for the right time, for that little bit of warm sunshine.
I have been feeling much the same since the Winter Solstice. The practicalities of the Westacre Project have not entirely gone to schedule, so things are happening a couple of months later than we would have hoped. I have been well nigh bursting with impatience to start digging and stripping and constructing. I've just been waiting for the opportunity to settle and really arrive.
In the chaos of a double house move, I have not been able to keep up my spiritual practice. And it was really beginning to tell on me. I could feel the stress beginning to get the better of me. But here we are at last, the sole occupiers as well as the owners of Westacre.
Now I can begin again. I have re-committed to my sunrise and sunset meditations – now exactly 12 hours apart, and to my ritual practice. Today, I asked the spirits of Westacre to show me how to begin building a more practical connection with them.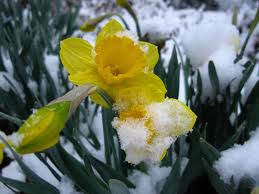 I was guided to feel the emotions that this place evokes in me. And right now, it makes me feel decidedly overwhelmed. The old growth from last year has never been removed, the grass is growing longer, and the veg beds haven't been touched for years. And I'm not even thinking about what needs to happen in the house. So I sat with the feeling of overwhelm, let it flow through me, and let its currents settle and come to rest.
From that place of peace, I could really begin to listen to the land, feel that life force ready to burst, taste the purity of the wind. I was told that, as I begin to work this garden, I need to listen like that all the time. I need to flow with the subtle currents of the land as I work. That way, everything I do will be a stitch in the great embroidery that is my connection to this place. And my work will be a blessing and a prayer for the world.
What feelings stop you from really listening? Can you accept them as part of your reality, so they no longer distract you? What do you really need to listen to at this time?